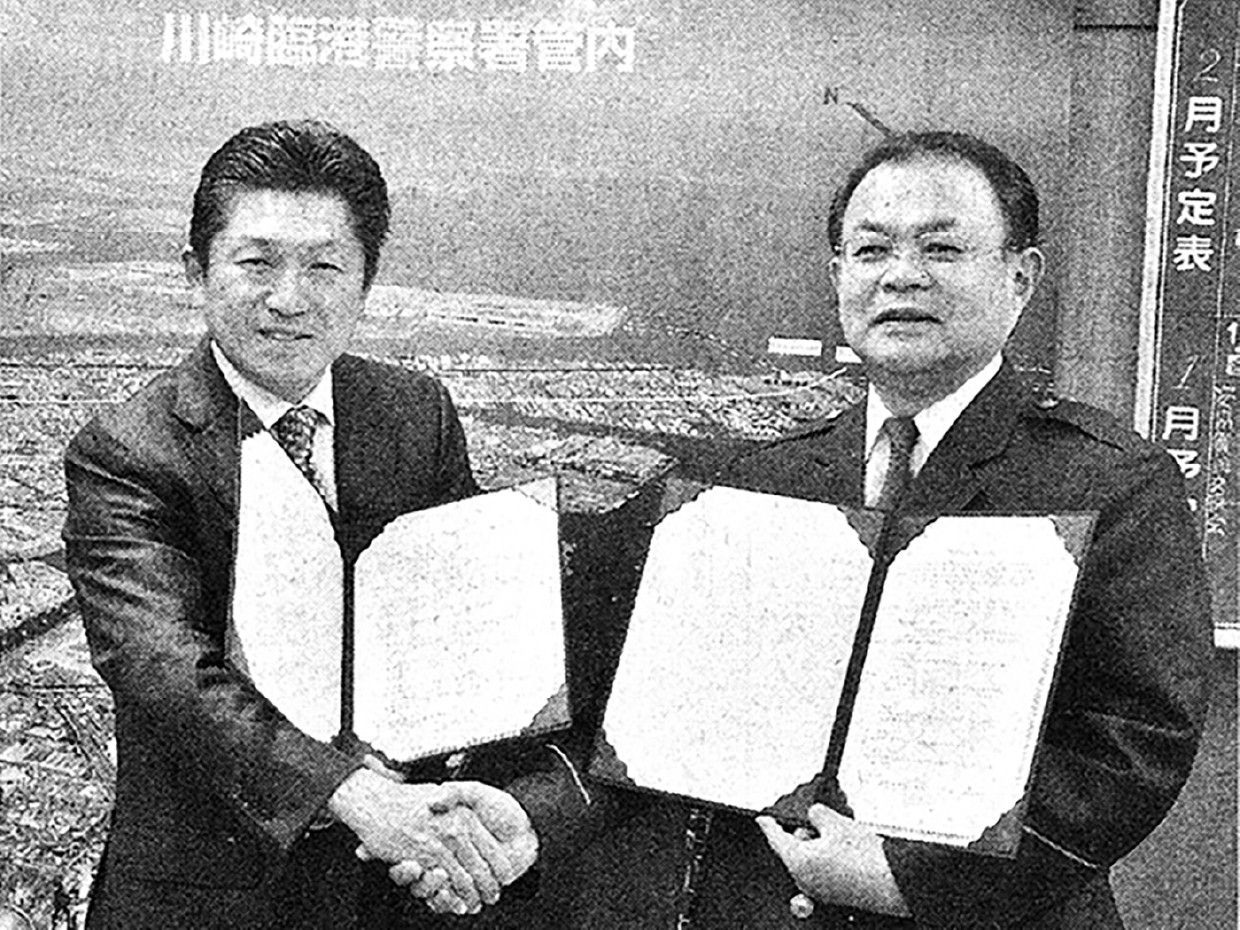 Daikyo Kenki is involved in regional disaster support through an agreement with the Rinko Police Department in Kawasaki, Kanagawa.
Cranes are capable of providing significant assistance in relief activities in cases of disaster. Our agreement with the Rinko Police Department allows us to carry out large-scale disaster measures by building structures to provide reliable support.
Source of photo:THE DAILY YOMIURI , January 22th, 2015
Daikyo Kenki Hosts "Crane On-Site Classes" Aimed at High-School Students.
There is an increasing shortage of individuals interested in the construction industry. These classes are meant to deepen interest in becoming a crane operator and to establish it as an option for the students' future. Daikyo Kenki works with the Construction Heavy Machinery Union of Kanagawa, who provides their cranes for these classes.
Through the actual experience of operating cranes and utilizing sling signals, we believe that the students attending these classes will understand the importance of operators in the construction industry. Moreover, we believe that these classes provide future career opportunities for the students and increase their desire to learn new things.
Daikyo Kenki
Company Baseball Team
Daikyo Kenki aims for success in all aspects, so we have put effort into nurturing our employees outside of their job as well. This is the Daikyo Kenki baseball team, established in 2017, with the motto "the show must go on." The team is active everyday with the aim of participating in various national tournaments, such as the Emperor's Cup, which is considered to be the pinnacle of Japanese-style baseball.
Team affiliation
Japan Softball Baseball Association Kawasaki City Baseball Association Daishimachi Branch A Class (Yokohama Baseball Federation, Seya Ward Baseball Association A class until 2019)
2021 results

Kawasaki Mayor's Cup and 76th Emperor's Cup Softball Baseball Kawasaki City Qualifying Winner
Emperor's Cup 76th All Japan Softball Baseball Tournament ENEOS Tournament Kanagawa Prefectural Qualifying Best 8

2020 results

Kawasaki Citizens Baseball Tournament Daishimachi Branch A Class Winner
Kanagawa Governor's Cup Kawasaki City Qualifying Runner-up
Participated in the Kanagawa Prefectural Governor's Cup Kanagawa Prefectural Tournament (participated as a representative of Kawasaki City)
Kawasaki Mayor's Cup and National Athletic Meet (National Athletic Meet) Softball Baseball Kawasaki City Qualifying Winner

2019 results

Seya Ward Spring Tournament A Class Winner
Kanagawa Governor's Cup Yokohama City Qualifying Best 4 (Participated as a representative of Seya Ward, Yokohama City)
Kanagawa Prefecture Governor's Cup Kanagawa Prefecture Tournament Best 16 (participated as a representative of Yokohama City)
Seya Ward Autumn Tournament A Class Winner
Takamatsu Miyagi Cup Yokohama City Qualifying Best 4 (participated as a representative of Seya Ward, Yokohama City)